SHUTTERS – With or Without
August 6, 2017 7:20 pm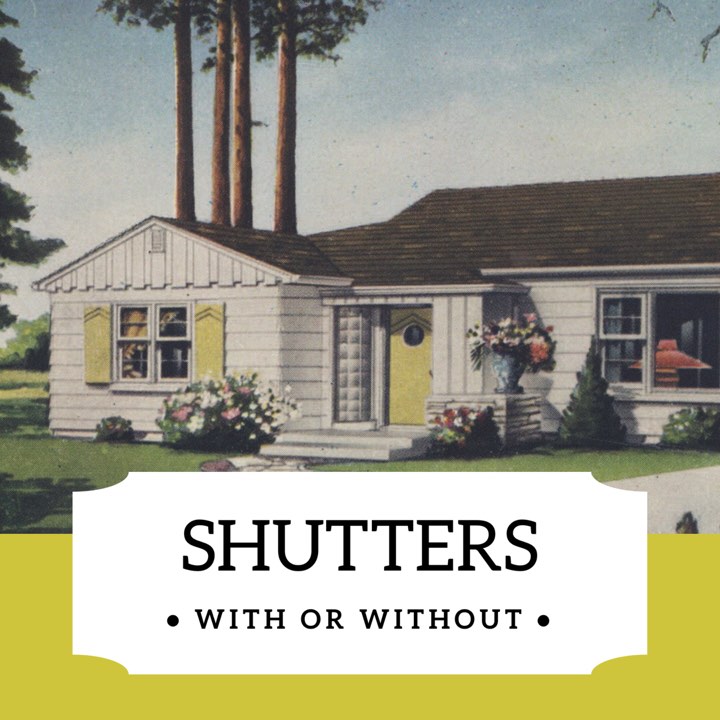 The subject of shutters on mid-century homes has become a contentious debate in the world of MCM home ownership.
Many mid-century purists believe that there is no room for shutters on mid-century homes. Many mid-century architectural purists I have surveyed have a slight varying opinion and believe that only functional shutters (or shutters that appear functional) have a place on any home. I myself am an architect and I have my own differing opinion. Let me tell you why.
To get scholarly, the original location for shutters is the interior of a window. Before glass windows, shutters provided ventilation, light control, and protection from nefarious armies invading your fortress. Fortresses, as you may imagine, have very thick walls, and shutters were hung on the inside of the opening purely so that they were reachable. As larger stone structures gave way to smaller frame structures, shutters began to appear on the exterior of homes. As early as Victorian times, when glass windows were more ubiquitous, exterior shutters often became nothing more than ornaments meant to dress up the façade. They still had a use for controlling light and ventilation, but they were no longer a fortifying element.
Fast forward to the 20th century. Exterior shutters were sometimes still used to control ventilation, but as the year's progressed, even this function became supplanted by electricity, fans, and air conditioning. What of the lowly shutter? It became, as interior shutters became, a decorative element to dress up your home. If you look back at mid-century plan books, you'll see decorative shutters on many a house. Will you find shutters on high-style modern homes such as Eichlers? No. But you will find them on more modest houses of the mid-century period.
So, how do you use shutters on a mid-century home? Stick with shutters that convey the style of your home. If your shutters are to be decorative, they should make a statement about your house and accent the architecture. Think about a design for your shutters that is in tune with the design of your front or garage doors. Consider proportions. Your shutters should be half the width of the window. Try not to use shutters on picture windows. Even though there are vintage house plans showing just that, it's more of a don't than a do. Do your own research. Look at old house plans and tour your neighborhood to look for houses that have shutters done right. Last, don't run to the nearest big-box for shutters. Chances are they won't have a style that befits your mid-century home.
Written by Susan Halla, owner & founder of Make it Mid-Century. For more information feel free to visit her website at: Make It Mid-Century